The books and the CD may be purchased individually as second copies to supplement the series pack or as single items. Each book stands alone with its own ISBN. See more details at the shop.
This section of our website has been set up to provide ongoing support to readers and users of the books of the In Search of … series. The information in this section will be periodically updated as new research resources become available.
Support material is broadly divided into two categories:
That which is applicable to all books, and
That which is specific to individual books
CONTRIBUTIONS
We encourage users of this section to contribute tips and ideas on research. Such information may be incorporated into this section and will be accompanied by an acknowledgement of the contributor. Just email us with your suggestion using ISO contribution as your message subject.
RESOURCES
For individual book support go to each book page:
INTERACTIVE CASE STUDIES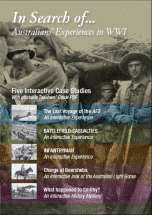 The series is supported by a CD with five interactive case studies, which are available here online. They are:
These modules provide an information format enhanced with graphics, animation and interactivity.
HISTORY
Interested in buying a copy?