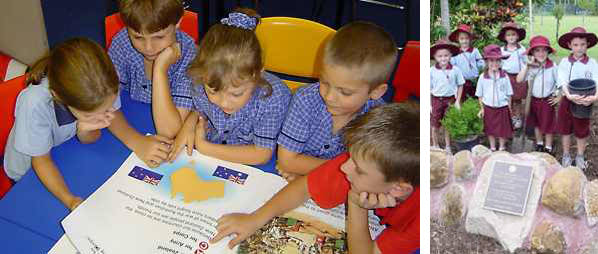 Why should young children learn about ANZAC Day?
By building young children's understandings about the traditions, facts and folklore of ANZAC Day, the many real life stories of sacrifices and heroism of everyday Australians will not be lost, but be handed down to future generations.
Research in education tells us that children learn best when they are highly interested, active and help make decisions about their learning. Young children have a fascination with all things to do with the past. By learning through hands-on, sensory and real-life experiences about ANZAC Day, young children will have an opportunity to understand the importance of this national day, and its role in building peace in communities today.
What will young children learn when they investigate ANZAC Day?
What quality information and resources will assist teachers when planning programs about ANZAC Day?
On this website there are considerable resources giving background and detailed information on conflicts relating to ANZAC Day. The best start point for this information is accessible here.
The ANZAC Day Commemoration Committee of Queensland has developed a range of early childhood kits, big books and shelf books for children's and teachers' use, including the following which are available for purchase here:
Additional useful website on ANZAC Day for early childhood include:
Finding out about ANZAC Day
To assist in building children's understandings of ANZAC Day, the Finding out about ANZAC Day sections may be explored before beginning the Activities listed. Other early childhood resources published by the ANZAC Day Commemoration Committee and listed earlier on this page will also provide excellent teaching/learning materials to help explore the topic of ANZAC Day.