The little-known tale of Australia's feathered heroes -- a corps of pigeons that saved countless lives during World War 2, with some birds even being awarded medals for gallantry.
by John Piggott
Every ANZAC Day they proudly march -- the pigeon fanciers who went to war. Their numbers are smaller now, but they always raise a smile and a cheer from the crowds lining the street. Yet probably only those who served alongside them would be aware of how many soldiers owe their lives to the birds these men bred, trained and nurtured in the tropics of wartime Papua and New Guinea.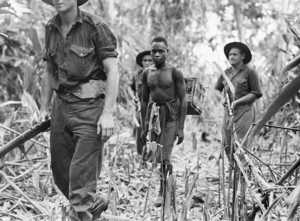 Like to copy this image? Please click here first
AWM 079122. Tsimba area, Bougainville Island. An armed guard escorting natives carrying baskets of pigeons through the jungle during a patrol.
Patrols surrounded by the enemy, crews in sinking ships, engineers stranded by mud-slides, medical units desperately short of blood all have reason to thank the men and the birds of the Australian Corps of Signals Pigeon Service who, sixty years ago -- in December 1942 -- arrived in Port Moresby as the Japanese beat a bloody retreat along the Kokoda Track.
Keith Wrightson was among the first to arrive. Now living in Sydney, the 80-year-old is still racing birds and is regarded as one of the sport's greats. He was serving with the engineers when he was switched to the pigeon service, which was started after jungle warfare laid bare the limitations of modern communications.
In New Guinea and the islands, the rugged terrain posed special problems: not only was there a greater chance of lines being cut, but the portable wirelesses taken on patrols were heavy and could fail in the extreme humidity. A pair of pigeons could be taken into rough conditions needing little more than a cane carrier and food. Then there was the fear of intercepted messages but, as Wrightson says, 'You can't jam a bird' -- the enemy might shoot at it, but in doing so it reveals its position.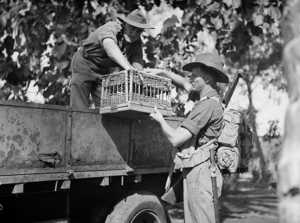 Like to copy this image? Please click here first
AWM 075922. Hansa Bay, New Guinea, 1944. A signaller of the 25th Infantry Battalion unloading carrier pigeons to accompany a patrol through the Boroi River area.
Sending messages by pigeon saved on precious airtime as war correspondents sending long dispatches from the front came to appreciate, and removed the need for decoding. But perhaps most valuable of all, the radio had yet to be invented that could transmit a hastily sketched map showing enemy positions. Other times they carried sketches showing reefs that could be used by landing craft carrying men to a beachhead -- they would know just where they were going to run into trouble.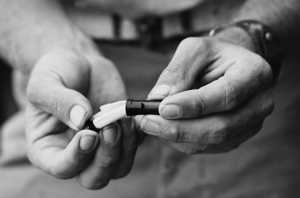 Like to copy this image? Please click here first
AWM 074798. Mililat, New Guinea. A member of the 1st Pigeon Section, Headquarters, 5th Division demonstrates the method of placing a message in the special capsule attached to the pigeon's leg.
Even the brass took some convincing. The remarkable pigeon man who instigated the service, Bert Cornish -- now 92 and living on the North Shore, Sydney where later he became Mayor of Ku-ring-gai -- wrote that 'probably one of the most difficult things to overcome was the prejudice within the Army itself,' or as Wrightson says, 'They thought they were going back to the Ark.'
Cornish had to find experienced men. His superiors wanted to take the easy option and recruit troops whose only contact with pigeons may well have been feeding them in the park. But Cornish knew this would be disastrous and fought hard to obtain a body of dedicated men such as Wrightson who knew what they were doing.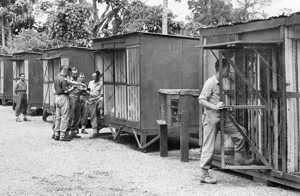 Like to copy this image? Please click here first
AWM 017485. New Guinea. Members of an Australian pigeon company attending to lofts at Lae. These birds have played an important role in operations.
A call then went out to owners around Australia who responded by donating 13500 birds in 1942 alone. Lofts fixed and mobile were built, food supplies ensured (grain wasn't grown in either Papua or New Guinea, so everything had to be shipped from Australia), birds trained. But after arriving in Port Moresby it became clear that the mainland-bred birds had trouble acclimatising to the tropics. A breeding program was therefore begun.
It didn't take long for service personnel to be convinced of the birds' worth. To troops in desperate situations, sometimes pigeons were all that stood between them and disaster. 'Soon the pigeons were very much in demand,' says Wrightson. 'The crews of some Army supply boats refused to go to sea without them.'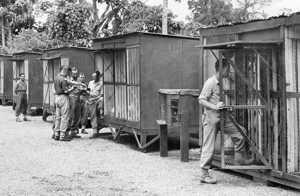 Like to copy this image? Please click here first
AWM 073819. A pigeon about to be released for a training toss from a four-bird type basket at Headquarters 1st Pigeon Section, Lae.
The first of two Dickin Medals -- the animals' VC -- was awarded to an Australian bird, whose flight to Madang saved the crew and valuable cargo of a boat that was foundering during a tropical storm. In driving rain the bird had covered 64 kilometres in 50 minutes. By the war's end it had been on 23 missions.
The other medal went to a pigeon attached to American forces on Manus Island after a group of about 200 men were pinned down by the Japanese in April 1944. Suffering casualties and with gunfire raining down, they managed to release a pigeon carrying a plea for help. The bird arrived back at base 48 kilometres and 47 minutes later. Aircraft were sent to clear the area; the troops were saved.
Another time, a box containing a pair of birds was parachuted into the mountains, so a surrounded patrol could detail its position. Birds brought relief to Army engineers stranded by landslides while building a jeep track deep into the Owen Stanley Range. The Australian War Memorial says of the service: 'The pigeons of these lofts were called upon to operate under conditions which probably no other Army pigeons had to endure. At times the birds had to rise 2000 feet in a distance of three miles, with torrential rain or mist a distinct possibility. Rarely was a message not delivered.'
Wrightson still thrills at the sight of a pigeon fluttering to earth, its mission completed. But this time medals, not lives, are at stake. For him, it has been a life-long passion, one that started at the age of 15, when he inherited his step-brothers' pigeons after they died in separate car accidents. He has been racing under their name Dive Brothers ever since, his father filling in for him during the war years. 'It's an intriguing game,' he says. 'Once you've been bitten by the bug it never leaves you.'
For all their courage and the contribution they made, the pigeons of war did not live to race in peacetime. Strict quarantine laws meant all the birds that operated in New Guinea and the islands were not able to be brought into Australia -- they had to be put down. Wrightson says sadly there was probably no other choice: there was no one to whom they could give the birds because there weren't the grain crops to feed them, and it would have been cruel to leave them there, starving and terrorised by hawks.
Wrightson says a friend took half-a-dozen with him but they were whisked away and destroyed as soon as they reached Australia. Sent to a taxidermist, two finished up as exhibits at the Australian War Memorial. There, out of public view, they can still be found. A pair of small birds, each with a medal bearing an inscription: 'For Gallantry'.
Published 7 October 2002. Reprinted courtesy of the Sydney Morning Herald.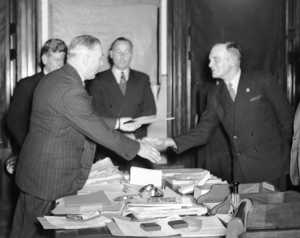 Like to copy this image? Please click here first
AWM 132994. Melbourne, 1947. The Dickin Medal, the Victoria Cross for animals, awarded to two Australian pigeons, presented by the Minister for the Army, to the donor of one pigeon.
Dickin Medal (The Victoria Cross for animals)
The Dickin Medal, a large bronze medallion, bears the words 'For Gallantry' and 'We Also Serve' -- all within a laurel wreath. The ribbon is striped green, dark brown and pale blue representing water, earth and air to symbolise the naval, military, civil defence and air forces.
The medal was instituted in 1943 by Mrs Maria Dickin, founder of the People's Dispensary for Sick Animals in England. It was awarded to any animal displaying conspicuous gallantry and devotion to duty associated with, or under the control of, any branch of the Armed Forces or Civil Defence units during World War 2 and its aftermath.
At least two Australian carrier pigeons attached to the Australian Army have received the Dickin Medal:
Blue bar cock No. 139:D/D:43:T Detachment 10 Pigeon Section (Type B) attached to Detachment 55 Port Craft Company, Madang 12 July 1945. Awarded the Dickin Medal for gallantry carrying a message through a severe tropical storm thereby bringing help to an Army boat with a vital cargo, in danger of foundering.

Blue chequer cock No. 879:D/D: 43: Q Loft No. 5 of 1 Australian Pigeon Section, attached to the US forces, Manus Island, Admiralty Islands 5th April 1944. Awarded the Dickin Medal for gallantry carrying a message through heavy fire thereby bringing relief to a patrol surrounded and attacked by the enemy without other means of communication.
Source of Information: Australian War Memorial website encyclopaedia at http://www.awm.gov.au/encyclopedia/dickin.htm