Unlike the Royal Australian Navy, the Australian Flying Corps (AFC) was part of the AIF and was formed only after WW1 broke out. Its men wore the same uniform as the army.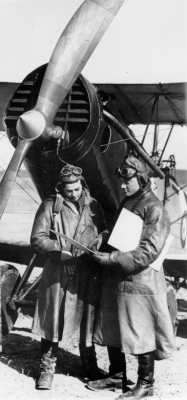 From September 1916 the corps had a squadron serving in Egypt. Their aircraft were unreliable, slow and poorly equipped so flights over enemy territory were dangerous. It was a job for daredevils.
Such a daredevil was Lieutenant Frank McNamara, the only Australian airman to be awarded the Victoria Cross in the First World War.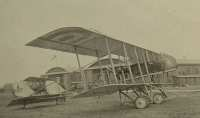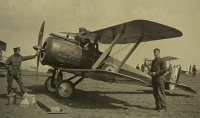 Like to copy this image? Please click here first
Two aircraft used by the AFC during World War 1. (Left) A Maurice Farman Shorthorn MF11(AWM H12729/3); and (Right) An Airco DH5 fighter (AWM H12729/7). (from photographs donated by Mrs J.M. Cornell)
In the Sinai Desert the AFC gained control of the air preventing the Turks and Germans from carrying out aerial reconnaissance. This had a decisive effect on the desert war and helped bring final victory to the allied ground troops.
This information was extracted from the book Sudan to Vietnam by Robert Darlington and published by Shakespeare Head Press in 1987.