In the 1860s the self governing Australian colonies established naval forces to assist in the provision of the defence of the colonies. After Federation these colonial naval forces came under the control of the new Commonwealth government. Some ten years later the Royal Australian Navy came into being and the first fleet unit, led by the battlecruiser HMAS AUSTRALIA, arrived in Sydney Harbour. A year later this young navy was to undergo its baptism of fire.
With the outbreak of war the Royal Australian Navy's first task was to protect Australia's ports, shipping and trade routes. As part of securing Australia's maritime frontiers the RAN took part in the first amphibious assault of the war when it played a major role in the capture of the German colonies in the Pacific. During this period the submarine the AE1 was lost on September 14 1914, off the coast of Rabaul, with all hands.
After this operation the ships of the RAN began the vital role of convoy escort. It was whilst escorting a convoy that the light cruiser HMAS SYDNEY was detached to investigate the sighting of a strange warship. This ship turned out to be the German light cruiser EMDEN. In the ensuing battle SYDNEY destroyed the EMDEN and thus won the RAN's first battle.

Like to copy this image? Please click here first
11th August 1914. HMAS Sydney steaming to attack Rabaul Harbour. (AWM EN0194)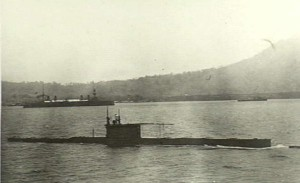 Like to copy this image? Please click here first
September 1914. The Australian Submarine AE2 in Rabaul Harbour (from a photograph lent by Dr A.J. Trinca). (AWM A01587)
The RAN also played a supporting role in the Gallipoli campaign. On the peninsular the RAN Bridging Train provided vital service to the troops as well as being the last Australians to leave Gallipoli. The submarine AE2 played a dramatic role in the Gallipoli campaign, penetrating the 'Narrows' and sinking an enemy cruiser. She was eventually scuttled by her crew after suffering battle damage. The crew members were captured and spent the next three and a half years in a Turkish prison camp. Four died while prisoners.
More about the commander of the AE2, and its role in the Gallipoli campaign
More about the AE2 (RAN website)
Text above courtesy of the Royal Australian Navy