(To assist students with research for projects and assignments on memorials)
Local history society
This group can help you look at your community as it existed in the past. Information on individuals whose names are listed on a war memorial may be obtained from this source. Photos of the area, families, individuals, buildings and your school in past times may be available. Local history societies often publish newsletters or journals in which you could publicise your project and later publish your findings.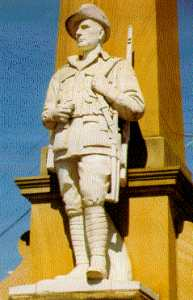 War Memorial,Beaudesert, Queensland.
Local collections librarian
Many libraries have an expert who can advise you about their local history collection. There may be an opportunity to mount a joint display with student contributions.
RSL branch
Your local RSL can help you in many ways. Members will know where the local memorials are located and which wars they commemorate. In their collection they may have medals and other memorabilia which have interesting stories attached. Students may be able to interview willing RSL members about their experiences, using a list of prepared questions. This could form the basis for a talk to the class or the school on ANZAC Day.
Older schools
In long-established schools, there are often honour boards in prominent places. The list of names on this board can be the starting point for a research project divided among your pupils. School records, visitors' books, school magazines, photos, parent and past pupils associations' records may be available. Some of the individuals may be related to current students in the school.
Local churches
Older churches often have plaques or honour boards on the walls which can be the starting point for research projects on the individuals commemorated. This research can provide the basis for an ANZAC Day address by the student researcher.
Local cemeteries
Look for headstones with the AIF Rising Sun emblem and note any information about the ex-serviceman. Is this a name which is on the local memorial? Before the Vietnam war the bodies of those who died overseas were not returned to Australia, but their families often listed them in local cemeteries as brothers, children and husbands. This could lead to a classroom exercise in drawing family trees or a photographic display of headstones.
More information:
Australia's War Dead (this site)
Local newspaper
Use your local paper to publicise your project in a small article. This can lead to offers of letters, medals, scrolls, widow's badges and other mementoes, which, with permission, could be copied and used for a display.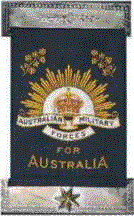 A Widow's Badge (World War 1)
Local newspapers are also an important archive of information on the past. If you have the date of death of the soldier, a search through the paper of the time may give you valuable information. Local newspapers had commemoration or honour rolls published. The advertisements, articles and photos of the period will also build up an understanding of the impact of war on your area.
Local museum
A local museum may have artefacts and photographs as additional information for your researches. This display may provide the basis for a trail for your students.
digging for Diggers
This book , published by the ANZAC Day Commemoration Committee of Queensland, is the definitive guide to researching the military history of a WW1 Digger. In a step by step approach, author Graeme Hosken provides the researcher with all of the information and tools necessary to complete the task.
For details on purchasing the book if it is not already in your library, go to the online shop.