We do not know this Australian's name and we never will. We do not know his rank or battalion. We do not know where he was born, nor precisely how he died ... We will never know who this Australian was ... he was one of the 45,000 Australians who died on the Western Front ... one of the 60,000 Australians who died on foreign soil. One of the 100,000 Australians who died in wars this century. He is all of them. And he is one of us.
The powerful words of the Eulogy delivered by then Prime Minister Paul Keating on 11 November 1993 at the entombing of the Unknown Australian Soldier.
The story began earlier that month when the remains of an Australian soldier who died in the First World War were exhumed from a military cemetery in France. He was one of the 23,000 Australians killed in the war to have no known grave. Except for their nationality, they could not be identified, and were buried beneath headstones bearing the words 'An Australian soldier of the Great War, known unto God.
Placed in a simple Tasmanian blackwood coffin, the remains lay in state at Villers-Bretonneux in France and at Menin Gate at Ypres in Belgium.
They were then returned to Australia, spending another three days lying in state at Old Parliament House in Canberra. Finally, on 11 November 1993 - the 75th anniversary of the Armistice which ended fighting on the Western front - the remains of the Unknown Australian Soldier were interred in the Hall of Memory at the Australian War Memorial.
The tomb is located in the centre of the imposing structure, set almost flush with the floor, surrounded by a sloping marble border, and topped with a red marble cover. It bears the simple inscription 'An Unknown Australian Soldier Killed in the War of 1914-1918'.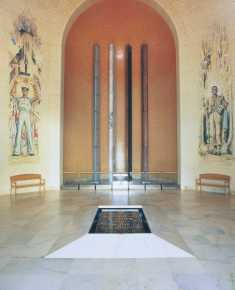 In the words of Paul Keating in his Eulogy, 'The Unknown Soldier honours the memory of all those men and women who laid down their lives for Australia. His tomb is a reminder of what we have lost in war and what we have gained'.
The Tomb of the Unknown Australian Soldier at the Australian War Memorial is a focus for contemplation and for remembering the 100,000 Australians who died in war, and whose names appear on the nearby Roll of Honour.
Our thanks to the Australian War Memorial for the above information.