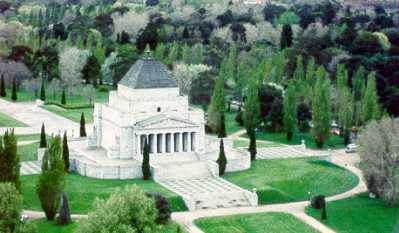 During the First World War - 1914-1918 - 116,000 Victorian citizens volunteered to serve overseas in the Navy and the Army. Casualties were heavy and 18,000 of these Victorians did not return to their homeland. Many thousands more were wounded or rendered unfit.
The people of Victoria felt that this great sacrifice in the causes of freedom and democracy deserved some permanent memorial. Therefore at a public meeting called by the Lord Mayor of Melbourne - on 4 August 1921 - a decision to proceed was made, and the State Government and the Melbourne City Council allocated large funds towards the objective.
As a result of the support given by Service leaders, in August 1926 sufficient money was raised by public subscription and after May 1927, tenders were called to proceed with the selected design. The Legacy Clubs of Victoria played a leading part in achieving this objective.
The school children of Victoria raised $18,000 by their own effort and their splendid contribution is perpetuated in the statuary on the Western and Eastern faces of the Shrine, representing the virtues - SACRIFICE, PATRIOTISM, JUSTICE, PEACE and GOODWILL
The Shrine was not completed until 1934 and on Remembrance Day of that year it was dedicated by H.R.H. the Duke of Gloucester in the presence of 300,000 people.
At the conclusion of the Second World War the Trustees of the Shrine took action to ensure that the enormous contributions by the men and women of Victoria to those years - 1939-1945 - should be likewise commemorated, in some way relating to the two Wars.
And so it was possible for the completed Forecourt to be dedicated by Her Majesty the Queen on 28 February 1954 - when she also lit the Eternal Flame, in the presence of a huge gathering.
It was not until 20 February 1955, that completion of the Forecourt and statuary was marked with a special ceremony at which the Chairman of the Shrine Trustees, Lieutenant-General, the Honourable Sir Edmund Herring, KCMG, KBE, DSO, MC, ED, QC, unveiled the tablet on the Cenotaph recording the occasion.
An excellent film entitled 'Shrine', produced by the Victorian Film Corporation designed for showing students, dramatically presents the story of the Shrine of Remembrance.