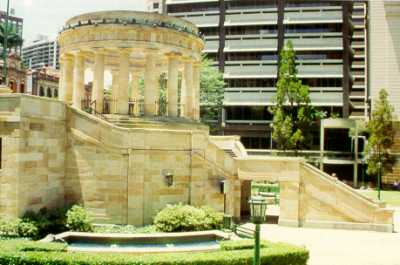 Image from a photograph by Shirley and Trevor McIvor, Toowoomba.
Almost every population centre in Australia has a war memorial round which citizens gather on 25 April, ANZAC Day, to pay tribute to young men and women who left their homes, trained hard, and combined in times of conflict to ensure our freedom. In particular, those who lost their lives are remembered. Every capital city has its special place where greater crowds can assemble on such occasions, and ANZAC Square, Brisbane is a focal point for Queensland. ANZAC Square features statues paying tribute to ex-service personnel. Topping the stairs leading from ANZAC Square are the Shrine and Eternal Flame of Remembrance, and in the subway beneath are the Shrine of Memories and a Crypt holding plaques honouring men and women of varied specialist units. The Boer War soldier on horseback was initially in front of the Trades Hall, but was transferred to ANZAC Square prior to ANZAC Day 1939, complete with Rolls of Honour of men who fell in the Boer War, 1899-1902.
Steps lead from the pathways up to the Shrine, which is 10 metres in diameter and consists of a Grecian Doric circular colonnade of 18 columns representing the year of peace, 1918. Written around the top coping are the names of the battles in which Australian units figured prominently - ANZAC, Cocos Islands, Romani, Jerusalem, Damascus, Pozieres, Bullecourt, Messines, Ypres, Amiens, Villers-Bretonneaux, Mont St Quentin, Hindenburg Line. In the centre is the Eternal Flame of Remembrance, set in a bronze urn with the word Remembrance repeated around the bottom. The impressive memorial made of Helidon sandstone with steps of Queensland granite, was dedicated at 11am on Armistice Day, Tuesday, 11 November 1930. The Shrine forms the focus of the radially pattern pathways, pools, and lawns of the lower park area which is planted with palms, Bribie Island pines, and mature bottle trees. The bottle trees were donated by Colonel Cameron in memory of the Light Horse Regiments with which he served in the Boer War.
In the subway below are the Shrine of Memories and the Crypt. The Crypt was established in 1930 and, in a cathedral like atmosphere, contains tributes for Australian and allied participants. The World War 2 Shrine of Memories was built by the Queensland Patriotic Fund as part of the RSL State Branch headquarters at ANZAC House in Wickham Terrace, and officially opened in 1959. It was later relocated to its present position where visitors can view the mosaic designed by Don Ross, comprising over 140,000 small pieces of hand cut Venetian glass enamels unveiled on 10 August 1984.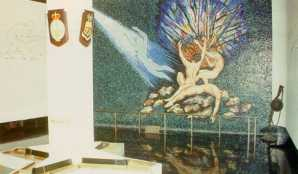 Mosaic, Shrine of Memories. Soils from war cemeteries around central post. Image from a photograph by Shirley and Trevor McIvor, Toowoomba.
Alongside the mosaic is the 2/7th Australian Cavalry Regimental Bible set in a wooden lectern, and around a central post are boxes containing soil from official World War 2 cemeteries where Australian service men and women are buried. Those represented are: Halfaya, Tobruk, Beirut, Phaleron, Suda Bay, Yokohama, Kranji, Chungkai, Kamburi, Rabaul, Bomana, Lae, Damascus, Jerusalem, El Alamein, Acroma. Inscribed wall designs, which are tributes to Army, Navy, Air Force and Women's Services, were created by Andor Maszaros, along with a bronze sculpture. A symbolic rifle and steel helmet, used to indicate a temporary war grave, stand on one side.
Unveiled on 23 April 1988, the Korea, Malaya, Borneo memorial in ANZAC Square depicts an Australian soldier from the Malaya and Borneo conflicts standing alongside an Australian soldier from the Korean campaign, with an arm outstretched welcoming peace and friendship. On the same day the Vietnam memorial was unveiled , honouring those who died or served in the war in Vietnam from 1962-1973. It depicts an act of mercy performed many times, an Australian soldier directing a medical helicopter to descend and tend to his wounded mate.
A further two statues were unveiled on 29 August 1992, one being the World War 2 memorial which depicts an Army nurse tending a wounded soldier. Around the base are insignia of many women's services, as well as a replica Victoria Cross, citation and photograph of VC winner, Corporal Jack French of Crows Nest, and other memorabilia. The second memorial honours participants in the South West Pacific campaign and depicts a wounded Australian soldier descending the Kokoda Trail assisted by a strong dependable Papua New Guinean leading him to safety. They are being passed by a fresh, determined soldier, resolute in the task ahead.
The Memorial Frieze on the western wall, erected by the women of Queensland in memory of those who lost their lives in the Great War and unveiled on the 24 March 1932, is a sculptured panel of infantry and horse drawn guns. In front is a sandstone drinking fountain supported by four bronze fish, a symbolic horse drinking trough remembering the invaluable work of horses during World War I. Beside the Shrine, Ann Street level, are three seats paying tribute to Australian Army Nursing Services, Commando Squadrons and Special Forces, and Major D.J.F. Skov for her work with Australian Women's Army Services (AWAS).
The Queensland Cameron Highlanders' tribute in the crypt leaves a poignant message for all generations: When you go home tell them of us and say, for your tomorrow we gave our today.
To learn more about Queensland memorials, visit http://www.qldwarmemorials.com.au - the Queensland War Memorial Register, dedicated to the memory of the fallen and those who served Australia in the Armed Services. The Register honours service personnel that were drawn from Queensland communities.