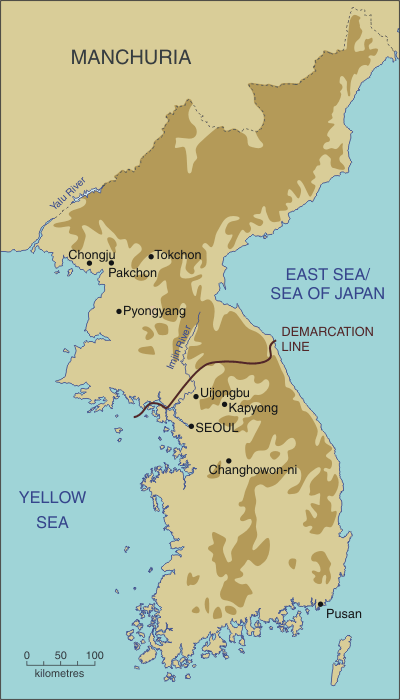 Australian Forces
Royal Australian Navy (RAN)
Aircraft Carrier: Sydney
Battle Class destroyers: ANZAC and Tobruk
Tribal Class destroyers: Warramunga and Bataan
River Class frigates: Condamine, Culgoa, Murchison and Shoalhaven
Royal Australian Regiment (RAR)
1st Battalion, 2nd Battalion, 3rd Battalion, The 3rd Battalion was first into action, being diverted from BCOF duties in Japan.
Royal Australian Air Force (RAAF)
No 77 Squadron diverted from BCOF in Japan
Volunteers in Australia were also raised - many who were WW2 veterans or those who were too young to serve in WW2.
Time Line: Australia in the Korean War
1950
25 June:
North Korea invades South Korea; UN Security Council meets.
26 June:
US air and sea forces directed to assist South Korea.
2 July:
77 Squadron sent from Japan immediately in action; RAN ships in Korean waters.
15 September:
Successful UN amphibious landing at Inchon forces North Koreans to withdraw.
28 September:
US Marines recapture Seoul, capital of South Korea; 3rd Battalion, Royal Australian Regiment arrives.
19 October:
UN forces occupy Pyongyang, capital of North Korea.
29 October:
Australian 3rd Battalion drives enemy north as far as Chongju, just short of the Chinese border.
1 November:
First clash between Chinese and UN forces takes place on the Chinese border.
5 December:
North Koreans and Chinese re-occupy Pyongyang. RAN ships take part in gallant rescue of wounded UN troops and Korean refugees.
1951
January-March:
UN abandons Seoul only to recapture it by 14 March.
22 April:
Chinese Spring offensive - human waves of soldiers attack the UN line just north of Seoul.
23-24 April:
Battle of Kapyong. 27 and 29 Brigades defeat superior strength Chinese force. 3rd Battalion RAR receives Presidential Citation for their part in the battle.
21 May:
Chinese offensive collapses.
July-August:
Unsuccessful cease-fire talks at Kaesong.
3-8 October:
Stalemate leads to the construction of trenches and heavily fortified defensive positions along the 38th Parallel.
1952
3 April:
1st Battalion, Royal Australian Regiment, arrives.
3 October:
Australians advance their position 6000 yards taking the key Chinese defence points: Hills 217, 317 and 355.
1953
17 March:
2nd Battalion, Royal Australian Regiment, arrives to replace 1st Battalion.
26 April:
Cease-fire talks resume at Pan mun jom.
27 July:
Cease-fire agreement signed at Pan mun jom.