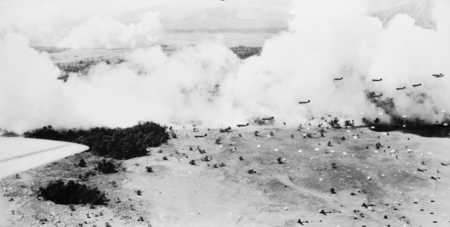 Like to copy this image? Please click here first
AWM 100546. Markham Valley, New Guinea. 5 September 1943. Screened by dense smoke, paratroopers of 503 US Paratroop Infantry Regiment and gunners of 2/4th Australian Field Regiment with their 25 Pounders land unopposed at Nadzab, during the advance of 7th Australian Division on Lae.
'Jump, you bastards, jump!'
Gunner Robbie Robertson exited badly and plummeted head first downwards. Suddenly, he heard a loud crack and was wrenched upright and upwards. His 'chute snapped open and blossomed in the cool air. For only the second time in his life, this young soldier experienced the exhilaration of floating above the earth and for several minutes, it was difficult to believe that he was in the middle of a war. 'And this is my first time into action,' he mused. 1
VX 50978 Gunner Ian George Robertson had just jumped into history -- the history of 31 young Australian artillerymen who had just parachuted with two guns into New Guinea's Nadzab airstrip in support of the 503rd US Parachute Infantry Regiment's securing of a landing ground for the Allied advance east to capture Lae.
But this was no time to be daydreaming! Six hundred foot was not that high and now the ground was rushing up to greet the young paragunner. Stop any oscillation, grab the shrouds and turn into the wind, feet together, knees slightly bent and… 'Oh! What the hell were those other two points?' muttered Ian.
Then he was down, rolling, smacking the release buckle… lying still -- it was all over! He leapt to his feet and was guided through the head–high kunai grass by Lieutenant Pearson's voice on the megaphone. Johnnie Pearson gathered his flock around the cane pannier from which they drew their weapons then allocated search arcs to find the pieces of the guns and other equipment. Only Gunner Lidgerwood had been injured in the drop, unfortunately landing in a tree and hurting his shoulder.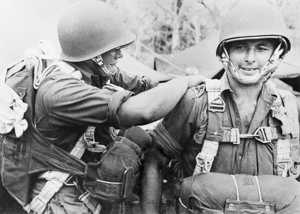 Like to copy this image? Please click here first
AWM 015701. Port Moresby, 1943. A gunner adjusts a parachute before the Australian airborne artillerymen and their guns -- dismantled and attached to parachutes -- join the transport planes which took them over the Markham Valley. The Australian paratroops were trained in less than a fortnight, and their jump, with those of American paratroops provided one of the most spectacular episodes of the new Allied move.
Sixty years ago this was the Markham Valley on Sunday, 5 September 1943. At 10.15 am, six squadrons of US Mitchell B–25 strafers led an armada of 302 aircraft. Each aircraft's eight .50–calibre machine guns swept the carpet of kunai grass ahead of their bays disgorging 60 fragmentation bombs. Six A–20s then obscured the scene with smoke and at 2000 feet 96 voices screamed, 'Stand up! Lock up! Check your equipment! Stand in the door… jump!' The C–47 transports spawned three battalions of US 'Sky Soldiers'. On each side of the columns of C–47s and about 1000 feet above, fighters hugged their protegees whilst brother aircraft at 7000 feet provided an interim umbrella below the top cover boys up in the sun, staggered from fifteen to twenty thousand feet. 2 The securing force had been launched for the 7th Australian Division's air landing.
Sergeant Wally Murnane and his detachment were the first to find a complete set of gun parts. Their squat little 'baby' 25 Pounder Short was quickly assembled and brought into action. 'Hit the ground!' somebody screamed as an ammunition box that had broken loose from its parachute load hurtled over the detachment's heads and crashed into the grass nearby. It was 3.15 pm and two Fortresses were delivering 192 rounds to fuel the hungry guns.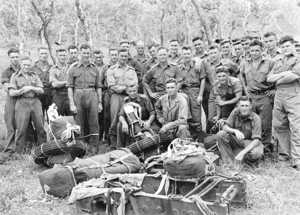 Like to copy this image? Please click here first
AWM 015700. September 1943. Australian gunners with their 25 Pounder Short Guns dismantled, and the parts attached to parachutes, wait for the order to don their own parachutes and equipment prior to joining the planes which flew them to the Markham Valley where they, and their guns, parachuted to complete the ring round Lae. The Australians achieved a feat never before attempted in the Pacific.
It was hard to believe that less than a month ago, Lieutenant Pearson had approached Gunner Robertson, his friend from the reinforcement ship that had taken them both to join the 2/4th Field Regiment AIF in the Middle East in September 1941. 'Robbie,' he'd confided, There's a delicate mission coming off… I can't tell you about it, but would you like to volunteer?' This duo had arrived in Syria too late to see action. The months of waiting in the Brisbane Line when their unit had been recalled to Australia had whetted their appetites for their slice of the war'. Robbie was a good signaller and visions of a submarine drop behind enemy lines began running through his mind. 'OK!' he said, 'Count me in.'
Back at Nadzab strip, a new challenge faced the 2/4th's 'Light' Section -- fire. The Americans, desiring to enlarge the airstrip quickly chose to burn the kunai grass rather than cut it by hand. Fanned by the breeze, this was soon out of control and only the bushman ship of some of the Gunners saved their position from being destroyed. In truth, the Gunners were quite disappointed that the landing had been unopposed by the Japanese and their Shorts had not been called into support.
In response to General Sir Thomas Blamey's 30 July 1943 instruction for the capture of Lae–Nadzab, Lt Gen Edmund Herring commanding New Guinea Force ordered the 9th Division to capture Lae from an amphibious landing east of Lae whilst the 7th Division was to establish itself in the Markham Valley west of Lae by an overland and airborne operation. The 503rd US Parachute Infantry Regiment was to secure Nadzab for the 7 Div's 25th Brigade to airland then advance east to Lae. On 8 August 1943, the commanding officer of the 2/4th Field Regiment, Lt Col Alan Blyth was ordered to support 25th Brigade. He approached Maj Gen George Vasey commanding 7 Div and proposed parachuting a two–gun section of the new 25 Pounder Shorts to support the 503rd Regiment. 3 Since the Americans did not have any guns suitable for paradrops, Vasey agreed.
That first night all the paragunners gathered around Murnane's gun and stores. (The second gun's parts had been scattered about a mile away and it was not until the second day that Sergeant Jimmy Thompson and his crew brought it into action.) Ian Robertson describes the utter exhaustion by nightfall and how they 'slept like the dead in silken parachutes' after enjoying the luxury of American rations that night. Early next morning Robbie and Lieutenant Frank Ross joined a forward US company and they moved up into the hills to Gabsonkek as a blocking force against attack from the north. 'We only fired two gun rounds at a Japanese pill box,' Ian recalled. Lieutenant Frank Faulkner and a signaler joined the 2/2nd Pioneer Battalion protecting the southern flank.
When Gunner Robinson reported to his battery headquarters as directed by Lieutenant Pearson, he was part of a group 'coming from all directions… even two of the blokes from my own tent were there, but none of us had disclosed our secret orders,' Robbie remembered. The CO had selected four lieutenants (Johnnie Pearson, Frank Ross, Frank Faulkner, 'Puck' Evans) and invited them to choose about ten 'good all round men' from each of their batteries Then began a week of tough physical training -- forced marches, running along the beach, climbing ropes, tumbling. Next the men were told to parade with their gear and were spirited off in trucks. Only as they entered the lines of the 503rd US Parachute Infantry Regiment did they begin to realise what might be in store for them.
Ross and Robertson's company north of Nadzab began patrolling. Captain Don Moorhouse had arrived overland with the 2/2nd Pioneer Battalion and supplies of sig cable. Robbie was flat out laying miles of line back to the guns when a cheerful officer walking by made a remark to him about Short 25 Pounders. Ian looked straight up into the eyes of the 7 Div commander. General George Vasey told Ian he was 'doing a good job', encouraged him to 'keep it up', and then wandered off along the track, completely alone.
When Lieutenant Pearson reported to Colonel Kinsella, commander of the 503rd Regiment, the latter was amazed that the Gunners did not know their mission. He insisted on addressing them and offered an 'out' for anyone to withdraw. 'Not one man took a pace out of the ranks,' Robbie recalls proudly. Twenty-four hours of hard training later, 33 would-be paragunners made their first jump from 1200 feet at the 30-mile airstrip outside Port Moresby. 'An horrendous feeling' crept over Gunner Robertson and he 'had to pluck up his utmost of courage' as he moved into the doorway in acknowledgement of 'Stand in the door!' yelled by the jumpmaster.
The battery commander and observer parties from 54th Battery and E Troop guns arrived on 8 September and 25th Brigade stepped off for Lae. The Light Section of paragunners did not take part in this advance but remained in support of 503rd Regiment who continued to maintain a secure perimeter around Nadzab as it built up into a major base. Lae fell to the 7th Division on 16 September 1943.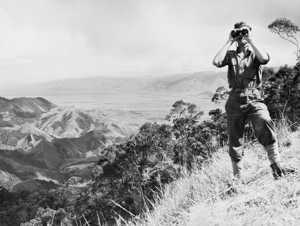 Like to copy this image? Please click here first
AWM 060259. Faria River area, New Guinea (several weeks after the jump). A forward observation officer of the 2/4th Field Regiment (Artillery) attached to the 2/27th Australian Infantry Battalion adjusting an artillery bombardment on the Japanese positions on Shaggy Ridge.
Three men, including Lieutenant Evans were injured in the one and only practice jump at the Port Moresby Airfield. Lieutenant Alan Clayton volunteered to replace Evans and jump straight into action with the other 30 'experienced' paragunners. Their journey to the intermediate Tsili Tsili airstrip on 'Z' Day was uneventful. Their frustration mounted during a two–hour wait for a call forward which did not eventuate till the 2IC of the 503rd landed in his light aircraft and said, 'What are you doing still here? -- GO!' 4 The Douglas transports roared into life and during the ten–minute hop to Nadzab climbed to 600 feet.
The red light came on above the jumpmaster. 'Stand up! Lock up! Check your equipment! Stand in the door!'
The light went green…
'Jump, you bastards, jump!'
Interview A.R. Burke with I.G. Robertson, Burwood, Vic, 9 December 1995.
Dexter, David The New Guinea Offensives, Australia in the War of 1939–1945, Series 1 Army, Vol VI, AWM, Canberra, 1968, p. 344.
Henry, R.L. The Story of the 2/4th Field Regiment, Merrion Press, Melbourne, 1950, p. 206.
Interview A.R. Burke with F.A. Faulkner, East Brighton, Vic, 21 November 1995.
Retired Colonel Arthur Burke is the Honorary Historian of the 4th Field Regiment RAA, today's holder of the traditions and spirit of the 2/4th Field Regiment AIF. He dedicates this article to the four officers and 27 soldiers who were the first Australian Gunners to parachute into action in the South-West Pacific theatre of World War 2 sixty years ago on 5 September 1943. It took 47 years of fighting bureaucracy before the survivors of those 31 paragunners were presented with their US Combat Jump Wings at the 50th anniversary luncheon for the formation of the 2/4th Regiment in Melbourne in 1990.