The landing at Gallipoli was a major event in the war. Even though the Gallipoli campaign was a military defeat, it helped to provide Australians with a new sense of their identity and place in the world.
One reason is the fact that the landing was a separate action in the war. It was not swallowed up in the general war news. People in Australia knew their boys were training for their 'baptism of fire' and when it came the Australians were an identifiable body of troops. So what happened was able to be isolated and analysed as an action by Australians.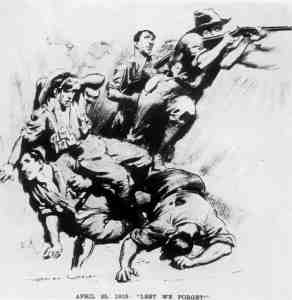 A poster from the time. At the bottom is printed "APRIL 25, 1915. LEST WE FORGET".
The reporting of the landing also influenced people's reactions to the event. The glowing tribute of the British war correspondent Ellis Ashmead-Bartlett gave the achievement an authenticity - here was someone who should know who was making such a positive and favourable judgement.
Another reason for the reaction in Australia is the possibility that most people in Australia had some connection with the men of the first AIF who landed at Gallipoli. Death notices on the first anniversary were sent not only by parents, husbands, sisters and sons and daughters - but also friends, cousins, work mates, fellow church members, and families of soldier mates. The ripples of those directly affected by the landing spread throughout much of Australian society.
Australia had been a nation for just 14 years, and there was an uncertainty about how they would measure up as a race against the people who had founded them, the British. There was also a belief in society that war was a testing ground for individual and national character. Australians had been brought up on the glories of British military exploits. They were now part of that picture, and were able to match themselves against the best in the ultimate test. In the words of one contemporary, 'They had been tested, and not found wanting'. So Gallipoli was a great sigh of relief that the test had been passed, an affirmation of their national worth.
In the 1970s and 1980s in particular some commentators challenged the strength or relevance of the ANZAC legend, arguing that it had little relevance to women, to a multicultural Australia, and to an era when a military heritage was tarnished by widespread anti-Vietnam War feeling. Such criticism seems to miss the point. The ANZAC legend does not have to mean that any individual could be an ANZAC, but that the ANZACs represented the values and behaviour and qualities of the whole society - and the ANZAC qualities of bravery, perseverance, mateship, determination and all the other positive aspects that can be found in the story are still what we would show if we were tested again.
To investigate this aspect of the Home Front experience by using evidence from the time, see Home Fronts at War, Ryebuck Media for ANZAC Day Commemoration Committee of Queensland.
(More about the book HOME FRONTS AT WAR)