After the retreat from Gallipoli, most Australian soldiers eventually became involved in the trench warfare of the Western Front. Despite repeated attempts, little ground was won and kept between 1916 and 1918. The war became one that had to be grimly endured, and the first flush of enthusiasm for the war and the thrilling achievement at Gallipoli soon led to a more harsh and realistic attitude towards war as the death and casualty lists increased over time.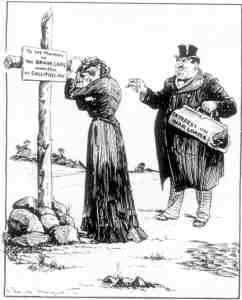 A cartoon from the time. The placard on the cross reads: "To the memory of the brave lads who fell at Gallipoli, 1915." The bag held by the character on the right is captioned: "Interest on war loans".
To investigate this aspect of the Home Front experience by using evidence from the time, see Home Fronts at War, Ryebuck Media for ANZAC Day Commemoration Committee of Queensland.
(More about the book HOME FRONTS AT WAR)