The Indonesian Confrontation (or Konfrontasi in Indonesian) was a small undeclared war fought from 1962 - 1966 through which President Sukarno of Indonesia tried to destroy the newly created nation of Malaysia.
Sukarno argued that the new nation was in fact just a way of maintaining British colonial influence in the area.
Indonesia had recently gained control of West Irian (formerly West New Guinea) from the Dutch, giving it a shared border with Australia in Australian-controlled Papua-New Guinea. Australia did not want any armed conflict with Indonesia on its border, but it also wanted a strong, united, anti-communist Malaysia.
But when Malaysia was created, Indonesia declared its opposition and hostility to it.
Indonesian President Sukarno was a militaristic, tough, nationalist, who was also trying to balance two great powers in his nation - the Communist Party of Indonesia (PKI), and the Army. He hoped that his opposition to Malaysia would keep both of them together and in support of him.
During 1963 the Indonesians sent small parties of regular and irregular soldiers to wage terrorist and propaganda actions in the former British areas of Borneo (Sarawak and Sabah). In 1964 they stepped up their actions to include raids on the Malaysian peninsula.
The Australian government was reluctant to commit its troops to actions against Indonesian soldiers, but finally decided to do so when repeatedly asked by the Malaysian government.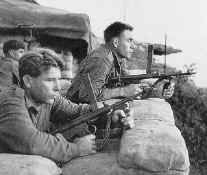 The main focus of Australian attention was in the Malaysian areas of Borneo (Sabah and Sarawak). Fighting was in difficult terrain and in an oppressive jungle climate. The troops were sited along the border to protect population centres from enemy attacks. But they also made frequent though secret incursions into Indonesian territory, forcing the Indonesians to defend themselves rather than be an attacking force.
3 RAR had four major contacts with Indonesian forces and suffered two mine casualties in 1965. In 1966 they were replaced by 4 RAR, which had a quieter time. In addition, two SAS squadrons, artillery batteries, engineers and RAN ships were involved.
23 Australians were killed, seven of these on operations, and 108 wounded.
There was very little press coverage in Australia at the time, because of the sensitivity of the operations and the cross-border activities. The Australian troops were all sworn to secrecy about having entered Indonesian territory, and it was not until 1996 that the 'invasion' was publicly admitted.
In 1965 Indonesian army leaders staged a coup against Sukarno, and massacred thousands of PKI members. Once firmly in command, they stopped the policy of Konfrontasi, and recognised the new nation of Malaysia in 1966.