By Fran Kelly
This article and images have been reproduced from the ANZAC Day Commemoration Committee publication, ANZAC Day 2004, which is on sale on-line, here.
On Remembrance Day 2003, thousands of Australians attended a dedication service in London's Hyde Park for a new Australian war memorial.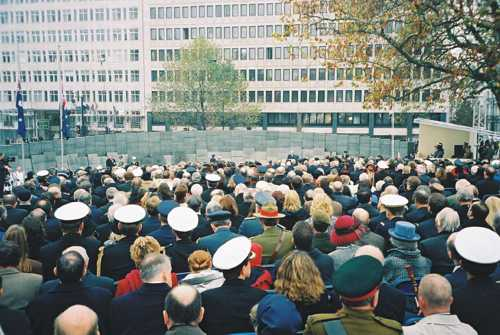 The dedication ceremony 11 November 2003. Photograph courtesy Australian High Commission, London.
The British Coldstream guards played Waltzing Matilda and thousands of Australians, many wearing green and gold and waving Australian flags, looked on as the Queen and Prime Minister John Howard unveiled a plaque dedicating the new memorial.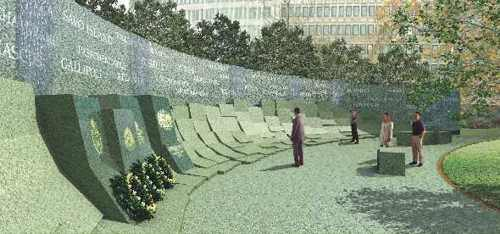 An artist's impression of the memorial. Image courtesy Department of Veterans' Affairs. Note: The memorial features a long, curving wall of West Australian green granite, reflecting the sweep of the Australian landscape. Inscribed on the wall are the names of 47 battle sites where Australian and British military personnel fought, superimposed upon the names of 24,000 home towns of Australian men and women who served during the two world wars, many of whom were never to return. The periodic flow of water across the wall highlights these names and is designed to evoke memories of the suffering and loss felt by all. The memorial is expected to be visited by many of the 250,000 Australians who visit London annually. Information courtesy Department of Veterans Affairs.
The ceremony started at the local time of the Remembrance Day observance -- the 11th hour of the 11th day of the 11th month.
Opposition leader Simon Crean, the chief of the Australian Defence Force, General Peter Cosgrove, and 27 Australian World War 2 veterans were also present.
The Queen and Mr Howard unveiled the Australian-designed and built memorial, a tribute to the 1.5 million Australians who served in the two world wars.
Mr Howard paid tribute to those who he said endured great peril and defeated great menace.
'In recognising the many thousands of Australians who served and fought and died alongside their British allies, we re-affirm the enduring hope of a world set free from hate', he said.
'In mourning our fallen, in numbers still difficult to comprehend, we also acknowledge the terrible power of those forces that would conspire against such a dream.'
Courage, compassion Mr Howard told the Hyde Park Corner crowd that those Australian soldiers who gave their lives in war will not be forgotten.
'With personal courage, compassion and bound by an unshakeable belief in each other they won for our nation the respect of the world and from their nation a debt of gratitude which those who have followed them can never repay', Mr Howard said.
He said the memorial is a reminder of thousands of young lives lost and a nation changed forever by war.
One of those who came under fire during the Second World War was merchant seaman Ron Ware, a guest of honour at the ceremony.
'How did I feel? Close to tears, it was so overwhelming. It was a wonderful experience', he said.
The Queen also honoured the contribution of Australian soldiers and airmen, praising their dogged courage and sheer persistence.
British Prime Minister Tony Blair also joined in the unveiling ceremony, saying the new memorial will ensure his country never forgets the Australians who joined the two great wars.
Night raid Mr Blair recounted the story of Rawdon Hume Middleton from Yarrabandai in New South Wales, who was posthumously awarded the Victoria Cross.
Mr Blair said the World War 2 RAAF Flight Sergeant was on attachment to the Royal Air Force in 1942, when his Stirling bomber was damaged in a night raid on Turin.
But he refused to bail out and saved five of his own crew's lives at the cost of his own.
'Rawdon Middleton was just one of many brave Australian heroes who died defending freedom', Mr Blair said.
'Along with many others, we cherish his memory, we cherish their memory. We will never forget them.'
Queen Elizabeth also joined in paying tribute to the Australian soldiers who fought and gave their lives.
'A full record of their service and sacrifice is inscribed on this memorial', she said. 'It will stand as permanent tribute to the partnership and sacrifice in a common cause.
'All who pass by will be reminded of the immense contribution made by Australians to final victory.'