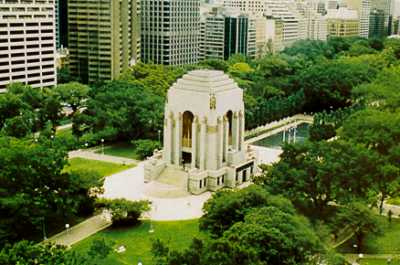 Image from a photograph courtesy of ANZAC Memorial, Sydney.
The Anzac Memorial in Hyde Park South was completed in 1934 as a memorial to the achievement of the Australian Imperial Forces. The building, designed by C. Bruce Dellit, is a concrete structure clad in stone with sculptures by Raynor Hoff.
On 25 April 1916, the first anniversary of the landing of the Australians at ANZAC Cove, a fund was opened to raise money to erect a permanent war memorial in Sydney. By the end of the war the fund had reached 60,000 pounds.
There was disagreement about both the form and location of the proposed memorial. The original suggestion was for a Hall of Memories. Other proposals were for a Cenotaph, a carillon in Centennial Park and later for a Memorial containing a cenotaph, a campanile, memorial arches and a courtyard.
In 1923, the Institute of Architects suggested the memorial be erected in Hyde Park, however no further action was taken until after the Cenotaph was erected in Martin Place in 1926. The ANZAC Memorial was officially opened by His Royal Highness, the Duke of Gloucester on 24 November 1934.
Situated towards the southern end of Hyde Park and centered upon the main avenue, the ANZAC Memorial stands one hundred feet high and, on its main approach, is the 'Lake of Reflections', bordered by poplar trees in memory of the battle areas of France.
The central motif of the design is 'The Sacrifice'. It comprises a bronze group of sculptures depicting the recumbent figure of a young warrior who has made the supreme sacrifice; his naked body lies upon a shield which is supported by three womenfolk - his best loved Mother, Wife and Sister and in the arms of one is a child, the future generations for whom the sacrifice has been made.
It illustrates the sacrifice engendered by war, self-sacrifice for duty and the beautiful quality of womanhood which, in the war years, with quiet courage and noble resignation, bore its burdens, the loss of sons, husbands and lovers.
The group rises pyre-like from symbolic flames of sacrifice, which radiate from its base. Placed centrally in the 'Hall of Silence', it is below the eye level of all visitors to the 'Hall of Memory', so that all who gaze upon the group from this place of memories must bow their heads in acknowledgement of those whom it symbolises - the heroes and heroines of New South Wales in 1914-1918, 1939-1945 and later conflicts.